Sale!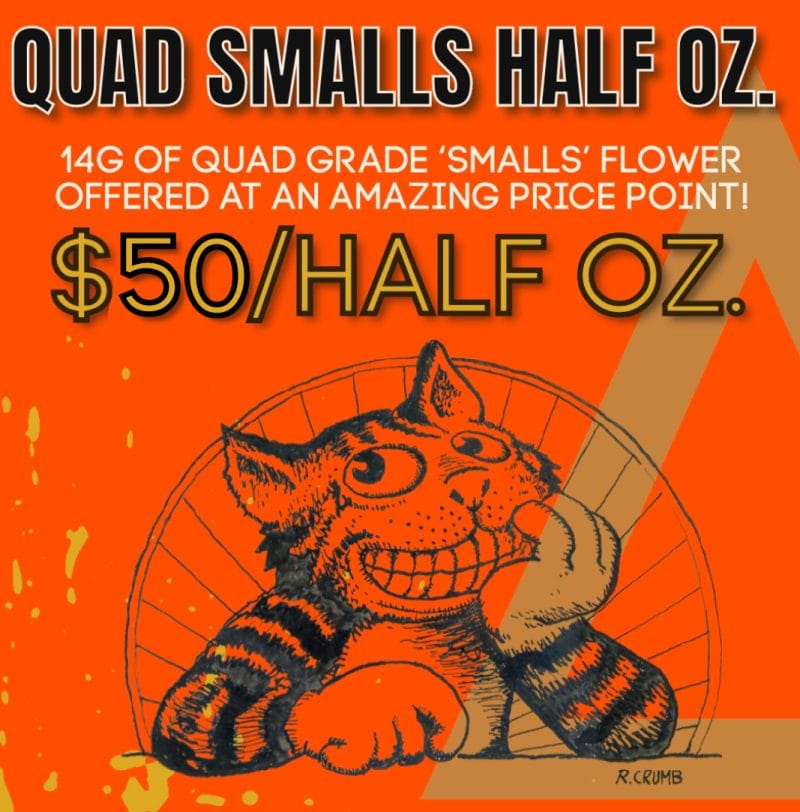 Quad Smalls • Half Oz.
-17% OFF
We offer the lowest price for quad grade smalls in Canada, and curate the most unique and high grade offerings in the category. We also do strict quality control m on all of our smalls to ensure that our patients receive the best, terpiest, must potent flower available, for a fraction of the cost of regular sized buds. That being said, don't be surprised to find medium and even large sized pieces in our "smalls". Grading flower for size is subjective and varies from grower to grower, and some strains produce bigger nugs than others, so we often find ourselves scratching our head at some of the "smalls" as they could easily pass for bigs. It truly is a chance to sample Canada's Premier Cultivators, at a price point that is extremely aggressive and a level of quality that would satisfy even the most discerning patient. Enjoy this incredible value, and make sure to #StayElyvated!
Description
Needless to say between gas prices, inflation and rising interest rates, we are in a tough time economically as a country right now. So the last thing that you need is to deal with overpriced products when shopping for your medicinal/recreational Cannabis.
Click here & here to read reddit reviews of our smalls program!
This is why we at Elyvate are SUPER excited to offer strains from Canada's Premier Cultivators, at a price point that is extremely aggressive and a level of quality you have come to expect from the best Growers this country has to offer. We regularly carry 'smalls' from a number of top-shelf producers such as Kingsmen Crew, Terpy Vibes and many more! It should also be noted that although these are listed as smalls, the majority of the buds are actually closer to the 'Medium' size, and from a quality perspective, you are not sacrificing anything as all of our strains are visually inspected, smoked and scrutinized for a number of qualifying factors from nose and freshness to thrichome coverage/size, effects, and of course potency. And all of our smalls pass with flying colours, which is why we have designated them as Quad grade.
Enjoy the same smoking experience you have grown to love with Elyvate and the elite growers we work with to bring you the best craft grade flower in the country, at a price that will leave you with just as big of a smile as when you first crack open the bag and take a whiff of the flower itself!
Enjoy, and as always.. #StayElyvated!!!
Information
Shipping
Shipping in Ontario $15, rest of Canada $20.
Need an advice?
Let's chat. 
Assistance
Contact us on   +1 416 473 6436